Pre-Made ♥ KANEBO Sakura Yukata Dress Set w. Mini Top Hat
1 in stock
---
This is a NEW / PREMADE costume set. Please check out the size below and see if it fits on you.
It'll be shipped the same or next business day after receiving cleared payment.
Due to the nature of items, all sales are final and Cosaru.com does not accept returns or exchanges.
Since the costume is already made and finished, the size cannot be customized except the skirt's waist.
I'll insert a new elastic band on a skirt's waist based on your waist & hip size. Please write your own waist & hip when you order. Acceptable size is 

WAIST 24~34″ & HIP max 38″
---
1 Yukata Dress
Fabric Printed by KANEBO, Japanese Textile Company
Black background with pastel-tone yellow & pink sakura print.
Elasticized Waist
Baby Pink Cotton Eyelet Lace Ruffles + Pink Sheer Organza(thin metallic gold edge) Ruffles on Neck & Sleeves
1 Bow on shoulder (detachable. pin-back brooch)
1 Mint Green Satin Obi Belt with 4 bows + 1 Flower
Belt with Snap Button Closure
FRONT Mint Green / Pink Satin Bow (pin-back brooch.)
BACK Black / Mint Green Satin Butterfly Obi Bow (pin-back brooch)
BACK Mint Green / Pink / Lemon Yellow Satin Bow (pin-back brooch)
BACK Black / Pink / Mint Green / Lemon Yellow Satin Bow (pin-back brooch)
BACK Lemon Yellow Flower with a Pink Satin Rose Center (Alligator Hair Clip)
1 Candy Pink Mini Top Hat
White Ruffled Lace Trim around Rim. Pink Satin Rose. Pink Feather.
White Satin Ribbons. Pink & White Plastic Pearl Beaded Strings.
Lightweight Flocked Felt Top Hat
Hat Size: Height 2.5″, Bottom width (oval shape) 5″ & 5.5″
* How to Wear *
(1) Slide the metal hair comb through your hair/wig.
(2) Tie the attached white satin ribbon under your chin.
<TIP> If you have natural straight hair and the hair comb tends to keep sliding off from hair, make a tiny pony tail first. Then, slide the comb into the pony tail.
1 Pink Skirt
Elasticized waist band. Bright Red + Black Lace Over Ruffles at the bottom.
1 Drawstring Pouch
Height 6″, Bottom width 4.5″. Lemon Yellow Satin Lining.
1 Fake Lollipop
Made of Foam Sheet. Wooden Stick covered with satin ribbon.
Not Suitable for children
1 Tsumami Ring + 2 Tsumami Pin-Back Brooches
Flower made of the same fabric of yukata dress.
Nickel Plated Adjustable Ring.
The mannequin in the photo is wearing a White Double-Layer Petticoat under the skirt. PETTICOAT IS SOLD SEPARATELY.
---
Size (inches)
The waist of "Skirt & Obi Belt " will be made to fit WAIST 24~34″ & HIP max 38″
Please include your WAIST & HIP when you order.
Bust max 44″, Waist min 24″ ~ max 34″, Hip max 38″
Skirt Length 17″
Obi Width 2 5/8″
Ring Flower 1.5″
Fake Lollipop Length 7″
FYI, the mannequin's body size is bust 34″, waist 24″, hip 32″, & shoulder width 15″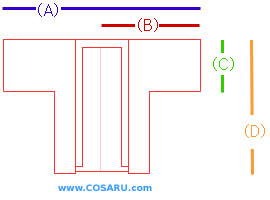 ( A ) Sleeve to Sleeve: 57″
( B ) Center Neck to a Sleeve End: 28.5″
( C ) Kimono Sleeve Height: 19.5″
( D ) Shoulder to Bottom: 26.5″
---
Fabric
Yukata Dress: 100% Cotton
Skirt: Poly-Cotton Blend
---
Washing Instruction
Hand Wash or Machine Wash in Gentle Cycle. Use a delicate/lingerie bag.
Cold Water. No Bleach. Line Dry. Low Heat Iron.