Description
Please check out the garment size and see if your body measurements fit into the size range.
It'll be shipped within 3 business days after receiving cleared payment.
Due to the nature of items, all sales are final, and Cosaru.com does not accept returns or exchanges.
Click Here To See NOZOMI 's Candy Maid Set. Get Free USPS Domestic Priority Mail Shipping when you buy Nozomi & Kotori's Candy Maid Sets together (*Must send as one payment for 2 costumes, International gets 20% off for Express shipping)
Kotori's costume is slightly smaller than Nozomi's. Please check each costume's size information.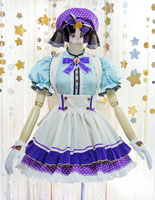 ---
Size
The overall size is made to fit US women's size Small to Medium
The mannequin's body size is bust 34″, waist 24″, hip 32″, & shoulder width 15″ (similar to US Women's Size Small)
Please check out the following measurements taken from the actual garment.
Dress
* Bodice has lace-up white satin ribbon which is adjustable to fit smaller bust/waist size.
Bust min 33″~ max 37 1/2″ (Recommend for Bust 33-37″)
Waist min 24″~max 32″ (Recommend for Waist 24″~31″)
Front Length 15 1/2″ (from the highest point of shoulder to waist line)
Neck to waist 12 1/2″ (center front neck to waistline)
Across Front 13″ (between right and left armhole seam = similar to upper bust for your body)
Shoulder width 13″ (Recommend for shoulder 13 1/2~16″)
Neckband Opening 16″ circumference (Recommend for neck 13~15″)
Neckband height 1 3/8″
Armhole 16 1/2″ (Recommend for max 16″)
Puff Sleeve Opening 12 1/2″ (Recommend for bicep max 12″)
Side Length 7 1/2″ (underarm to waist line)
Skirt Length 15″ (waist line to white lace trim)
Apron
Under bust max 34″ (Recommend under bust max 33″ & under)
Waist max 33″ (Recommend waist 26~31″)
Apron front yoke height 3 3/4″
Shoulder Strap 2″ W (Strap length is made to fit 15~16″ long torso)
Skirt Length 9″ (waist line to purple ruffles)
Ankle Cuffs
Ribbon width 1 1/2″
Recommend for ankle circumference 9″ & under
Garter
Elastic band relaxed 13 1/2″ ~ stretched max 20″ (Recommend for thigh 15 1/2″~18″)
Beret (Hat)
Diameter 11″, Opening circumference 23″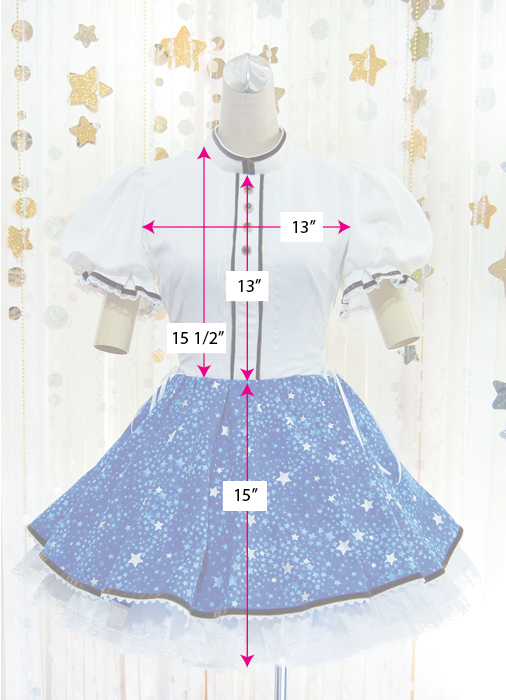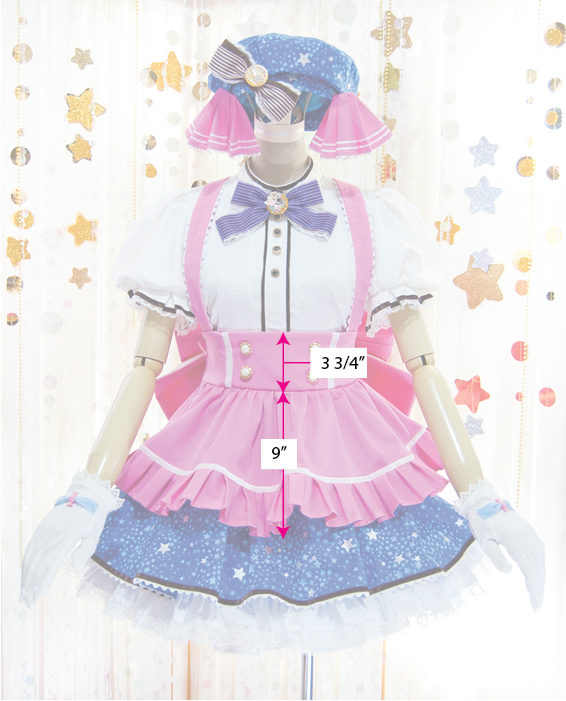 ---
Fabric
Dress, Hat – 100% Cotton
Apron – Cotton/Lycra Blend
Lining – 100% Polyester
---
Washing Instruction
Hand Wash or Machine Wash in Gentle Cycle. Use a delicate/lingerie bag.
Cold Water. No Bleach. Line Dry. Low Heat Iron.
---